First retrievers have appeared in our country more than 30 years ago, but these wonderful dogs became popular in Russia only 10 years ago.
The main center of retriever breeding in Russia is Russian Retriever Club (RRC). Our club was established in 1971. All these years RRC does all possible to make retrievers popular in Russia.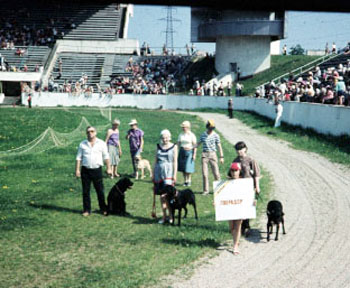 First Russian labradors
In this article I'd like to tell you about main etaps of retriever development in Russia and name all most influential stud retrievers. Beforehand I'd like to make excuses, because now breed is developing in a very active way, and it's impossible to name all nice Russian retrievers in this article.
So first Labradors have appeared in the USSR in the end of 60 - beginning of 70-s of XX century. Today such names as FISHDUCK'S KENNEBAGO RAIDER (USA), RED STAR (Canada), SUSANNE OF HAMPSHIRE (UK), BRUTUS FEROKIUS (India), PINKY (UK) have become history - since these dogs history of Labradors in Russia has begun.
First Labradors were taken to our country by people, who were very far from dog shows - they worked in Ministry of Foreigh Affairs, diplomats, so it's obvious that the majority of that dogs were only pets, but not show-labradors. It was very difficult beginning of breed in Russia, during quite a lot of time we hadn't independent breed club, but were a little section at Newfoundland club. Only when in the USSR lived 50 labradors, it became possible to organize Retriever Club. Even people who liked Labradors knew about this breed practically nothing.
Every new representative of a breed who appeared in the USSR was a real gift, because it was very difficult to make any breeding, we had a great shortage of new lines. People in Russia didn't know new breed, even there wasn't clear breed standard. Now it's really strange to see photos from that times, at shows there were 5-10 labradors, not more, but in general Labrador owner of 80-s were very active, they visited all dog shows and tried to advertise new breed in the USSR. In the beginning of 80-s Labradors lived only in Moscow and in Riga.
From very first Labradors we had several litters: A1 - 06.09.1979 (FISHDUCK'S KENNEBAGO RAIDER + ZENTA), in this litter ANDRA (owner Lode M.) was born, the first Labrador in Riga; B1 - 08.04.1980 (FISHDUCK'S KENNEBAGO RAIDER + SUSANNE OF HAMPSHIRE), in this litter appeared BIMBO (owner Spiridonova V.), BAGIRA (owner Clesov A.), BRENCIS (owner Iltinya), BERI (owner Conuhov); V1 - 22.07.1980 (FISHDUCK'S KENNEBAGO RAIDER + PINKY), were borned VACSINA TUMARK KATRIN (owner Lapina E.), VIR TUMARK KATRIN (owner Blinchevski). 12.05.1982 in Moscow appeared the litter G1 (ZAMBO + SUSANNE OF HAMPSHIRE), in these litter GEISHA GREKAM STAR (owner Pushenkova S.), GOLF GREKAM STAR (owner Bakaldin Y.) were borned.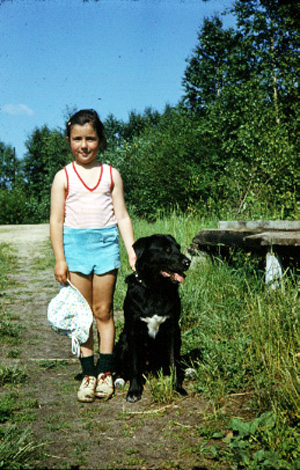 Olga Teslenko with Zenta, 1982
In the end of 1982 in Moscow was imported the grandson of English Show Champion KINLEY SKIPER, black male BRANDY SNAP (owner Harchev V.). This male became real salvation for the breed, he had quite a nice pedigree. From BRANDY SNAP in the USSR we had 4 litters: in Moscow - litter D1 (DANIEL TUMARK BRANDY, owner Bazikin A.) from mating BRANDY SNAP + VACSINA TUMARK KATRIN; litter E1 (EVA KINLEY STAR, owner Teslenko N.; ELLE KINLEY STAR, owner Trifonova R.) from mating BRANDY SNAP + ZENTA; litter J1 (JULIETTA ROYAL PEARL, owner Kalmikova E., JAK ROYAL PEARL, JAKLIN ROYAL PEARL and JANNET ROYAL PEARL were taken to Riga) from mating BRANDY SNAP + CHRISTIE OF BLACK HOOVE (Netherlands, owner Kudinov Y.), also in Riga was born a litter from BRANDY SNAP and BERI (litter C1).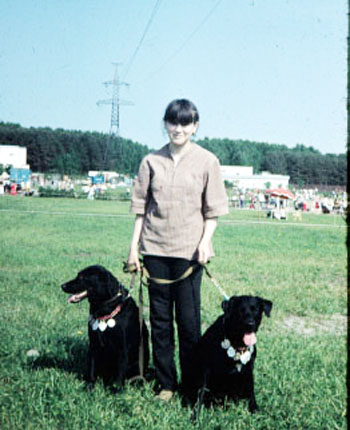 Lubov Trifonova with Elle Kinley Star and Eva Kinley Star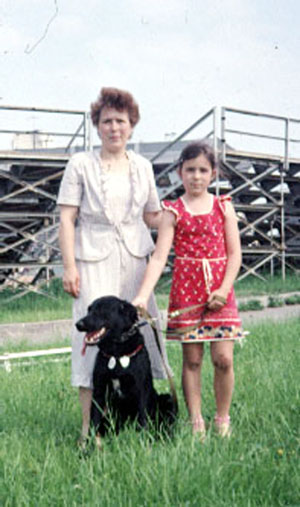 RRC President Natalia Teslenko and Olga Teslenko with Eva Kinley Star
In spite of knowledge lack about Labrador breeding in the world, even in that time in ouf country sometimes appeared Labradors of nice quality. In 1984 to Moscow was imported yellow male from England - BARON (owner Philippova L.), grandson of English Show Champion OTHAMCOURT SHANE OF SADDIE. BARON became a very important stud dog, he was used in breeding till 1994 and among his children there were some very successful Labradors, for example: ZORNIE TUMARK BARRY (owner Efremov A., mother - VACSINA TUMARK KATRIN), JAKBAR KORSAR (owner Hasminski M., mother - JAKLIN ROYAL PEARL), BAER TINNIE (owner Portyanaya L., mother - JAZ ERMINA), ANPRI VESTA BARI (owner Bogdanov V.) and ANPRI VAYDA BARI (owner Sirotinski M., mother - TUMARK PRETTY JERR), BANOR ZLATA NIKSI (owner Mironova E., mother - VIRGASH NORA), BARK NEVIS DAN (owner Mamaev B.) and BARK NICE DAN (owner Gorbanev D., mother DENBAG KINLIE) etc.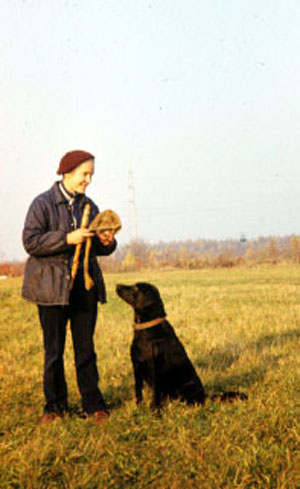 One of first RRC members Natalia Vlasova with labrador Jas Ermina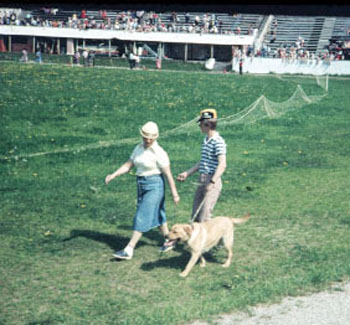 Labrador retriever Baron
In 1989 to Moscow from India was imported one more yellow male which had English lines - RAJ (owner Baydashin V.), this male also was used in breeding. His most famous sons were RAJEV ELLING STAR (owner Myateznaya L, mother Eva Kinley Star) and ZOR LORD BARRIE (owner Efimov E., mother Zornie Tumark Barrie), these dogs also were influential stud dogs.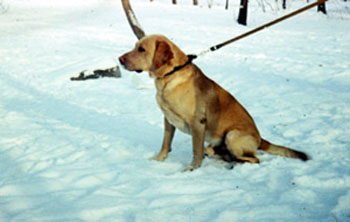 Labrador retriever Raj
For example, ELLING was a father of Rus.Ch. KINEL BARBIE DAN (owner Teslenko N.), KINEL BESSIE DAN (owner Shlafshtein G.) and KINEL BEATRICHE DAN (owner Lashina N., mother DANBAG KINLIE), ELAM URMA ZAFI (owner Kudryavtzeva L., mother ZAFI AMALTEYA), ELZOR URGA BARRIE (owner Shkuratova L., mother ZORNIE TUMARK BARRIE) - exellent blood bitches. Many famous show-labradors are offsprings of ELLING's daughters.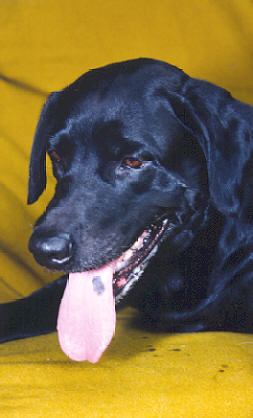 Labrador retriever Kinel Barby Dan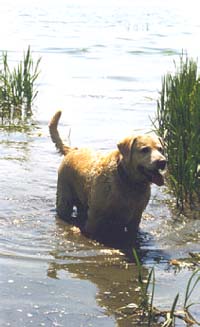 Labrador retriever Elsor Yurga Barry

The most famous son of ZOR LORD BARRIE is Int.Ch. LORTZ HARVIE (owner Efimova E., mother FRENKIN TSERRIE), it's a first Russian Labrador, who got title International Champion. HARVIE also used in breeding, his most successful children are Int.Ch. RICHARD MAGNIFICO (owner Polevaya L.), Int.Ch. REINA DEL KORASON (owner Kochetkova V.), Ch. RICO VALIENTE (owner Kuznetsov A.), Ch. CENTURIION TIT KLODIY (owner Kotelevskaya I., mother MARDZIE HAZEL), Ch. LOLITA BASSINGER (owner Vasevnikova E., mother BARB SHERRIE STAR), Ch. KVENTIN KASTING VOTE (owner Marulina E.), Ch. KARDIGAN JACK EDENDIE (owner Korotkov V.), Ch. TESLA MARUN (owner Shevtsova C., mother Ch. MILADY) and many others.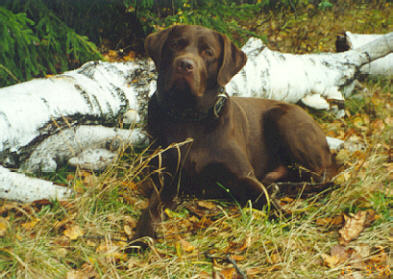 Labrador retriever Lorts Harvy

In the beginning of 90-s popular stud male was black SINBAD BUDDY OF RUSSIA (owner Algunov Y.), he had nice pedigree with ancestors from many respectable English kennels: Sandylands, Tapeatom, Ballyduff, Jancourt. Among Sinbad's ancestors are Sh.Ch. Sandylands Royal Escort and Ch. Jancourt Ajoco Justice. Sinbad's children had very beautiful heads and strong body. Even now Sinbad's offsprings have exellent results at shows, his best children were Ch. SIN NIGHT PORSH BARGIE (owner Ushakova O.), SIN NIGHT PLATON BARGIE (owner Plugina T.), SIN NIGHT PATRICIYA BARGIE (owner Grobchinskaya, mother VIRGEISH NIGHT GEIL), GLORSIE IDALINA OTHAMCOURT (owner Orlova M.), GLORSIE ILYA OTHAMCOURT (owner Nizegorodtseva G., mother TUMARK GLORIYA RAD), SINAUR THEODOR MAY (owner Somova A., mother RADZAL AURA RAIDER), Ch. CMEY GLORY BATI (owner Zaytsev V., mother POM MEYSIE GRANT) etc.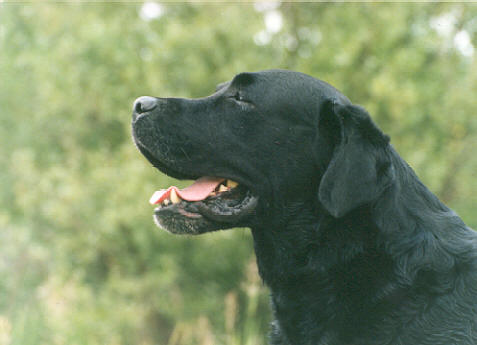 Labrador retriever Sinbad Buddy of Russia
the end of 80-s to Riga was imported yellow Belgian male WEST KING. In that time main Labradors centres in the USSR were situated in Moscow and Riga, so breeders in these cities collaborated closely to each other. In 1991 to Moscow was taken son from first litter of SWEETTREES WEST KING and JAKLIN ROYAL PEARL, it was JAKVEST FRAM (owner Kasatkin), from FRAM we had several nice litters, for example his daughter FRAMIE SANDY IRAN (owner Bruevitch E., mother POM MILDA GRANT) became one of the best brood bitch of Russian Retriever Club.
Also in the beginning of 90-s to Russia were imported SILVER CLOUD'S BORG (owner Metlov P.) from India, WINOKAPAU DUKE (owner Melenkov V.) from England, OVIA VAN FRAVANCA (owner Orlova L.) from Belgium and some other new Labradors. In that time in our country was a big problem of "iron curtain" and specialist hadn't an opportunity to import to Russia Labradors with real interesting pedigree, so the majority of these Labradors had different drawbacks.
That's why in the first part of 90-s labrador's population in Russia was quite numerous (especially in Moscow), but the quality wasn't the best.
The situation changed after the liberalization of external relations. Russian breeders received an opportunity to import really nice retrievers from famous kennels!
Beginning from second part of 90-s in Russia appear more and more imported Labradors from different countries.
In this period of time yellow English male BRENCARA JOHNNIE WALKER - OLLE (owner Prokofieva A.) had an impact on Labrador development in Russia. OLLE was a son of famous Sh.Ch. Rocheby Whisky Mac. OLLE's puppies had very nice heads, exellent pigmentation, good type and temperament of real Labrador! During several years OLLE was one of the most popular stud male in our country, he had a lot of litters in Russian Retriever Club and in other clubs and kennels. I'd like to name some his successful children from Russian Retriever Club: Ch. ALKOR ROS BERTA (owner Zelenina S.) and Int.Ch. ALKOR ROS BREDFORD (owner Jdanovich M., mother FRAMI SANDY IREN), Ch. BLONDESS EMPIRE QUEEN ESCORT (owner Myateznaya L, mother ATTIKONAK DANCE WITH THE ANGEL), Ch. JOHNNIE JOHNSON TRESSY SLOW (owner Zamyatin A., mother FLORIDA), Ch. ZVEZDA SEVERA JULIAN PATRIK (owner Shapiro V.) and ZVEZDA SEVERA UNIKA (owner Murashova M., mother Ch. KINEL BARBIE DAN), Ch. LITTLE RUSHIAN DIAMOND NIKOLOS (owner Nikolaev A., mother PLATCI MOLLIE), Ch. MY LOVE HEART TARANTELLA (owner Panteleeva T., mother HADLY) and many others.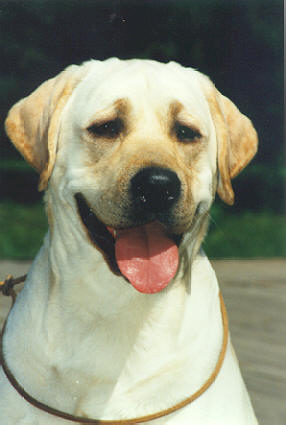 Labrador retriever Brencara Johnnie Walker
In this period in Russia were registered first professional Labrador kennels: "STENVEYZ"(owner Dimitriu T.), "TIMANTTI SOLID" (owner Dreyer T.), "GOODQUITE'S - LOYALHEART" (owners Vinogradov A. and Chesalina V.).
The first imported labrador of "STENVEYZ" kennel was chocolate male from Belgium: STANLEY OF LUCIFER'S DELIGHT (Stam), he was a very influential stud dog and founder of big line of chocolate Labradors in Russia. His most famous children are Int.Ch. CHERNIY CHOCOLATE ESTEFANIA (owner Lomokhova E., mother SINYAZ KRIS MAGGY DREM), Ch. MILADY (owner Suslova V., mother Ch. CHIS SOLSBERRY LIFE), Ch. SIMONA (owner Savina T., mother FRABES TREISY) and others.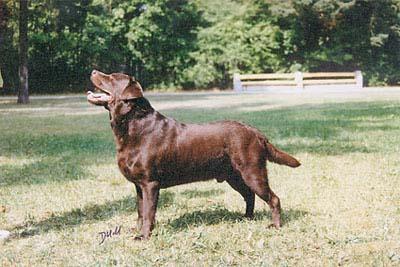 Labrador retriever Stanley of Lucifer's Delight


During first years of its work "STENVEYS" rented to Russia two exellent males: yellow BLONDELLA BUTCH CASSIDY (UK) and black QUATRO OF LUCIFER'S DELIGHT (Belgium), from these males in Russia several nice litters were borned. The most successful children of BLONDELLA BUTCH CASSIDY in Russia are: Ch. JAKLIN ARA (owner Korsakova I., mother ERSIN CHANCY JUDY), Ch. ULRIF (owner Zatona N.), Ch. UILLY (owner Kozlova E.), URSULA (owner Rumin V.), ULISSA KRAKSO (owner Konushkova R., mother ELZOR YURGA BARRIE).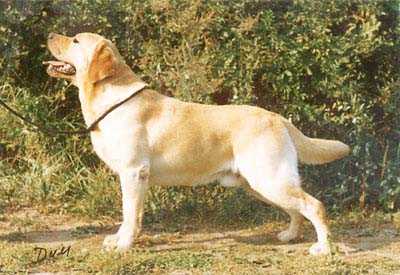 Labrador retriever Blondella Butch Cassidy
The most famous litter of QUATRO OF LUCIFER'S DELIGHT in Russia, of course, is a litter from URFAMICINE OF LUCIFER'S DELIGHT (Stenveyz kennel), the names of dogs from this litter are known by every Labrador breeder in our country: Ch. STENVEYZ ALPEN GOLD, Ch. STENVEYZ AIR MALE, Ch. STENVEYZ AGATHA CRISTIE, Ch.STENVEYZ ANGEL'S MELODY and, certainly, STENVEYZ AMERICAN EXPRESS (owner Novikov A.) - black male with yellow and chocolate genes, during several years he was one of the most popular stud dogs in Russia. He is a father of many Champions: Ch. ENS LUMENS MAGIC STONE (owner Novikov A.) and Ch. ENS LUMENS MELODY OF SUMMER (owner Omelchenko K., mother ZLATA LUNA), Ch. ARABELLA LUCKY BABY (owner Spirkina A., mother ZVEZDA SEVERA UNIKA), Ch. DI KYADO BRIGITTE BARDO (owner Belobeeva M., mother STEFFIE ALL), Ch. ENS LUMENS ZELFA BLACKBERRY (owner Nadvornaya O., mother MELLANI), Int.Ch. TOMILA TEODORA (owner Slepchenko S., mother VLADA), Ch. LIGHT TIGER (owner Zaletov O., mother Ch. MY LOVE HEART TARANTELLA), Ch. EVA ROYAL PEARL (owner Kremneva K., mother ENOLA) and many-many others.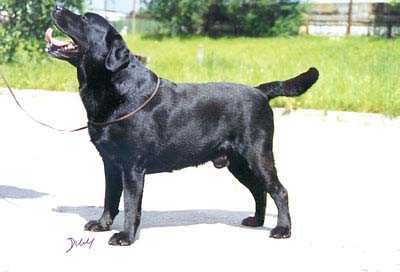 Labrador retriever Quatro of Lucifer's Delight
In the end of 90s in Russia lived chocolate male from Holland - DUTCH MARINE OF THE DUTCH HIGHLANDS (owner Chernishov S.), grandson of famous Ch. MASTER MARINER (UK). Unfortunately this male lived in our country not long, and he had not many litters, but at a later time in breeding used his son Ch. VOODY ALEN (owner Rojok N., mother TERRY).
In 1998 yellow Labrador male from Finland STRONGLINE'S FLAME OF FAME was rented to Russia for several months. This nice male had in our country nine litters, his most known children are Ch. GREAT NEVIS (owner Zah M.) and Ch. GERSIE ONIX (owner Lipinskaya V., mother PONEVI YAGER KIN), Int.Ch. TINNIT SKAMPY LADY ABRICOS (owners Osokina T. and O., mother OLIMPIKA), Ch. HIONIYA SNEZNAYA (owner Mashinskaya O., mother ENRICA).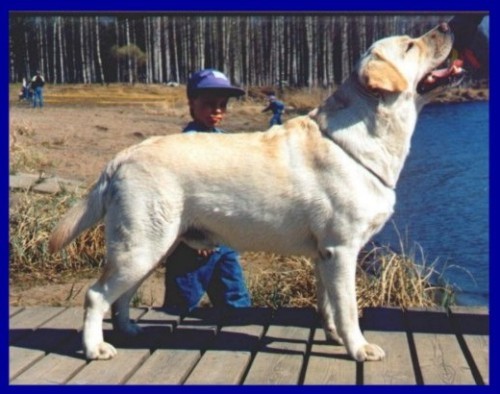 Labrador retriever Strongline's Flame of Fame
In general in Russia there sufficient lines from kennel STRONGLINE'S (Finland), first of all, Labradors from "GOODQUITE'S - LOYALHEART" kennel (Ch. STRONGLINE'S UNION JACK, Ch. STRONGLINE'S KEEP SMILING, Ch. STRONGLINE'S DAZZLING SMILE) and their offsprings. Also in Russia lived nice yellow male Int.Ch. STRONGLINE'S COMRADE (owner Kotarov K.).
Also it's necessary to name exellent dogs from mating STRONGLINE'S KEEP SMILING and STRONGLINE'S GOBLIN, in this litter borned important stud dogs: Ch. LOYALHEART HAY HOW DEAR HEART (owner Shamova N.) and Ch. LOYALHEART HANDY MAN (owner Kuteyshikov), among their puppies there are many exellent show Labradors.
During many years absolute leader at Russian show rings was yellow English male SRETLAW WEST IS BEST (owner Haminskiy A.), son of Ch. SANDYLANDS MY GUY. Among his victories are International Champion, 5 RKF Champion, Russian, Belarus, Ukranian Champion, 10x CACIB, BOB "Retriever - autumn 2002", "Retriever - autumn 2003". In 2005 this outstanding male began to show at veteran class, and we wish him health and long life. Besides exellent show results WEST IS BEST is nice stud male, his best children are: Ch. VINI VANILI IS MITINO (owner Poluda K., mother Ch. ABIGALE), Ch. YELLOW BITTLE TSAREVNA LEBED (owner Rachenkova E.), Ch. YELLOW BITL TSARITSA (owner Scetinina N., mother - BESELFOLK GRETHEN), Ch. CHINSANO BIANCO (owner Monakhova I., mother JELAYU UDACHI YUNONA), Ch. RADIAN STAR JAKLIN KANDI (owner Kuznetsova M.) and Ch. RADIANT STAR JERMON LUISA CHAMER (owner Zelenina S., mother - Ch. ALKOR ROS BERTA), Ch. UILIAM KRAKSO BARRY BURJUY (owner Vasilieva E., mother - Ch. KRAKSO ROSE ZOLDA BEILIS), Ch. JAK TAPS KAYMEN (owner Oleksuk N., mother - YELLOW STONE AYA) and many others.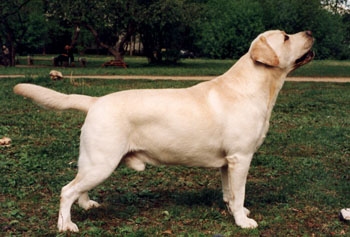 Labrador retriever Sretlaw West is Best

At the end of 90-s more and more people began to breed Labradors, the interest to this breed was growing. In this time some new kennels were registered: KAPAS SPIRIT (owner Lukashova S.), YANKEE GOODWILL (owner Motor G., Sankt-Petersburg), "FROM MAGNIFICOS KINGDOM" (owner Polevaya L. and T.) etc.
At kennel "KAPAS SPIRIT" now two successful litters were received from Int.Ch. FOXRUSH SILK COPY (England): at 2001 puppies appeared from this bitch and POOLSTEAD PART AND PARCEL (mating in Italy), from this combination the most famous dog is Ch. KAPAS SPIRIT ASK POMEROY HOW (owner Pavlova E.); at 2003 in this kennel appeared puppies from World Champion SIREVA SECRET AGENT FOR FOXRUSH (mating in France), from this litter I'd like to name young black male KAPAS SPIRIT BOND JAMES BOND (owner Vasilieva E.), he began very successful Show career and became Best Male at specialized Show "RETRIEVER - 2005" (judge Liam Moran, Ireland).
Also big achievement of "KAPAS SPIRIT" is import of French Labrador лабрадора POP STAR OF TINTAGEL WINDS, among his children there are some very nice dogs, for example, the winners of biggest shows of Russian Retriever Club: INGRID FOXY TAIL (owner Terekhova N., mother - Ch. ENS LUMENS MELODY OF SUMMER), GUARDIAN ANGEL (owner Gladisheva O., mother - Ch. BIOTTY), VREMYA MECHTI AFRODITA (owner Potovina T., mother - Ch. CHULPAN).
The kennel "YANKEE GOODWILL" (Sankt-Peterburg) imports Labradors from the UK and the USA, the most famous Labradors of this kennel are SANDBAR'S YANKEE TRADER (USA), WHITE WING AMERICAN SPIRIT (USA), LINJOR WISH MASTER (UK).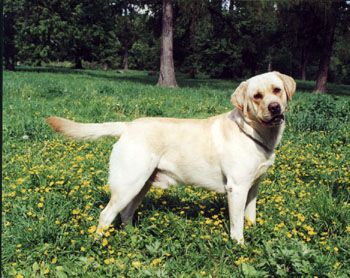 Labrador retriever Sandbar's Yankee Trader
In general in St. Petersburg during last years appeared many serious kennels, which as a rule cooperate with Finnish breeders. "STARS MARYLAND" (owner Lunnikova M.) and "KENSOLS"(owner Jirina E.) achieved very good results.
In Moscow kennel "FROM MAGNIFICOS KINGDOM" specializes on breeding of black and chocolate Labradors, this kennel imported nice black male Ch. TJOTTE'S NEW YEARS KING AT MAGNIFICO from Sweden.
At 2003 to Moscow was brought English black male TAPEATOM GOODWILL (owner Portyanaya E.), he is inbreeded to Ch. Sandylands My Guy and Ch. Trenow Brigadier. Since 2004 this male is used in breeding and his elder children began their show career.
Last years in Moscow very actively began it's work kennel "IRIMAN" (owner Mihajlova I.), the most successful dog of this kennel now is IRIMAN ELDORADO GOLD (Ch. Saturday Night Fever of Tintagel Winds + Ch. Gloss Psie Lobby). Also this kennel imported to Russia some nice Labradors (Ch. GLOSS PSIE LOBBY, Ch. YAREN YODA HERBU ZADORA, Ch. FLANDER'S PRIDE CABBANA).
One of the most interesting import of last years were yellow male Ch. PENNY ROYAL ERIC'S DUTCH TULIP (owner Yazikova O., Netherlands) and chocolate FARNFIELD CHINGACHGUK (owner Yazikova O., UK).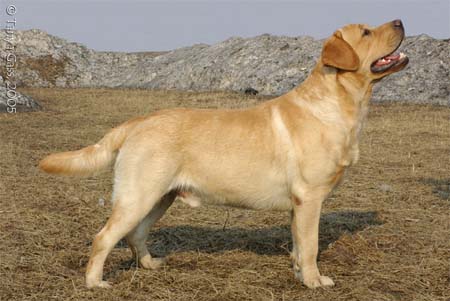 Labrador retriever Penny Royal Eric's Dutch Tulip

It's very nice that in our country many retriever people are really fond of their dogs, they participate in dog's shows in Russia and abroad, in hunting tests, try to establish contacts with foreign kennels. In future we will inform you about news in Labradors population of Russia, but now it's time to speak about the development of golden retrievers in our country.
The very first golden was imported to Russia by one of founders of Russian Retriever Club Alexey Surov in 1989. It was American bitch PRINCESS CHRISTINA OF KANSAS.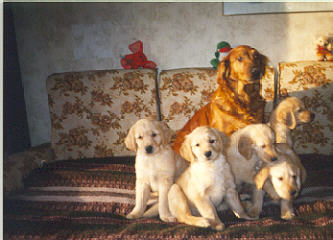 Princess Christina of Kansas with grandchildren

31 December 1991 in our country first golden retriever puppies litter appeared, the mother was PRINCESS CHRISTINA OF KANSAS, and father very nice and handsome American male RICHMOND EARL APRICOT (owner Chhikvishvili O.).
Among Richmond's ancestors were many titled dogs. Unfortunately he lived in Russia not for a long time. In 1993 his owners went to the USA by their work. So, from Richmond we had only two litters. He returned to Russia only in 1999, and at our Club Show "RETRIEVER 1999" participated in veteran class. At autumn 2002 RICHMOND again visited at RRC Show, he was in that time 13 years old, and of course, for all owners of his descendants it was very interesting to see this nice golden.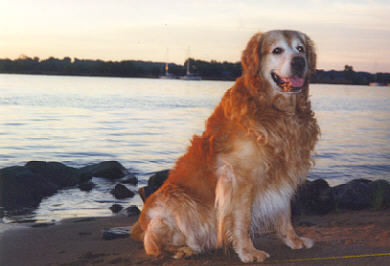 Richmond Earl Apricot
In the beginning of 90s Vladimir Metlov imported to Moscow excellent English bitch ZULU PRINCESS (Stesie). During all her Show career she had a lot of victories. From STESIE we had two successful litters. In first litter (born 13.07.1993) from American male RICHMOND EARL APRICOT, we can mark out some nice goldens: RICHANA VERLIE GOLD (owner Shilov S.) - Best Junior, CAC, Best Male; RICHANA VICONT GOLD (owner Kuznetsova M.), RICHANA VALENTINO GOLD (owner Voropay I.) - CW; RICHANA VEYS PATRICIA GOLD (owner Jukov S.) - Best Bitch. All these goldens had nice temperament, strong bone and wonderful coat.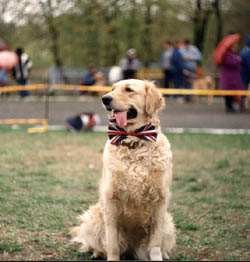 Zulu Princess
In 1991-1993 in Moscow bit by bit settled the "colony" of Indian goldens: male DAN (owner Podgornih V.), the brothers NIRO (owner Materiy Y.) and DONALD (owner Gulyaev A.), bitch QUEENIE TIPTOE (owner Chadova I.). All these dogs were relatives: QUEENIE's mother - TRICIA, DAN's mother - DAFFY and NIRO's and DONALD's grandmother - LADY AMBER were sisters; QUEENIE's father - RAPUNZEL'S WILD FIRE was also grandfather of NIRO and DONALD. All these dogs were used in breeding and influenced in some way to golden retriever development in Russia. For example from QUEENIE we had two litters: in 1994 QUUNIE TIPTOE + American male RICK IV (owner Desyatov Y.) and in 1998 litter QUUNIE TOPTOE + Indian golden DAN.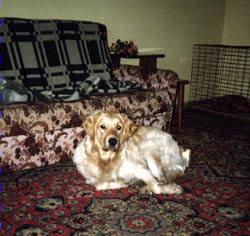 Dan
From Indian male DAN we had three litters. In his second litter (DAN + English bitch ZULU PRINCESS) were born only two puppies, both "girls". One of them EUGENIA GOLD (owner Manelis A.) became the class winner at International Show "Eurasia - 1997", 3-CAC, nice brood bitch. The most titled DAN's daughter is ERONA GOLD (owners Teslenko N.and O.), she is Russian Champion, on International Show "Russia - 1997" (judge Sonia Belan Faletti - Italy) she became Best Bitch, CACIB, RKF Champion. ERONA had several litters of exellent quality.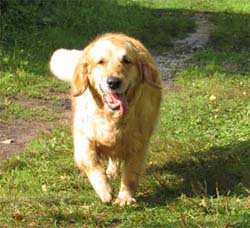 Erona Gold
The first Russian Champion in 1995 became American male HARDIE GOLD SUNNY PEN (owner Cherkasova L.). SUNNY PEN was typical American golden of dark colour, he had one litter in 1996 from KRIS BEATRIS CRISTIAN (owner Voevodin V.).
American Goldens Princess Christina of Kansas and Hardie Gold Sunny Pen

In 1995 in Moscow came wonderful English bitch CRAIGIEHILL PERDITA (owner Sato Miuki). PERDITA made in Russia exellent Show career, became Russian Champion, RRC winner. In 1998 CRAIGIEHILL PERDITA went away with her owners to Japan, but in Russia he had one litter. On summer 1997 she was mated to young Swedish male BALTGARDENS LYNDON B JOHNSON (owner Tugarid D.). LYNDON had outstanding pedigree, among his ancestors there English and Scandinavian dogs. At a later time LYNDON became one of the best stud males in Russia, his children usually inherited his type.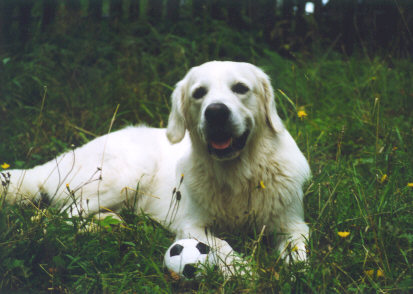 Baltgarden's Lyndon B Johnson
The litter of LYNDON and PERDITA was first "European" golden litter in Russia, without any lines of American or Indian goldens. In this litter 11 puppies were born, some of them went to Japen, the important role in breed development played 4 goldens from this litters, their names now know every golden breeder in Russia, this are: Russian Champion, RRC winner TSVETAN VIRGE (owner Nikitina Z.), Russian, Belarus, Moldavian Champion, RRC winner TSUKAT CRISTAL (owner Yazikova O.), International Champion, Russian, Ukranian Champion, RRC winner TSUVASA VERONIKA (owner Zemtsova A.), Russian, Belarus, Ukranian Champion, 4-RRC winner TSUBURA MIMOSA (owner Shamin E.).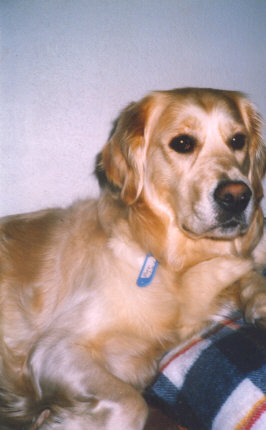 Graigiehill Perdita
In contrast to Labradors among goldens in Russia never had been lack of new lines - permanently to our country new goldens were imported. In the beginning of 1998 the first litter from male GOLDSTEP ACOUSTIC SOUND (owner Semenova E.) was registered. ACOUSTIC SOUND was imported from Sweden, in his pedigree we can find famous Ch. Styal Scott Glengilde. ACOUSTIC SOUND was very successful at show rings, he is International Champion, Russian, Moldavian, RKF Champion. His influence to a breed development is really important, among his children there are Russian Champion ZVEZDA SEVERA BARTON GOLD (owner Kuzmichova I., mother ERONA GOLD), Russian, Moldavian, Ukranian Champion, RRC winner ELANA CORSE (owner Shakkum T.) and Russian, Belarus, Moldavian Champion ENTURA SHELL (owner Collar O., mother AFFI JOSEPHINA), Russian Champions PRITI GOLDEN BLUS TERRY (owner Condrashina O.) and PRITI GOLDEN BLUS TRACY (owner Lakomaya O., mother CHELSIE), Young European Champion, Intenational Champion, Russian, Moldavian, Belarus Champion EMAXIS EXCLUSIVE (owner Usikov D.), Russian Champion EDELVEIS (owner Golovchenko A.), Russian Champion EFRI DIOSA (owner Fedoseeva E.), Russian, Moldavian Champion ESTRELLA BLANCA (owner Lebedev K., mother - TSUBURA MIMOSA), Russian, RKF Champion ZVEZDA SEVERA YARONA FIORDELIZ (owner Melihova Y., mother ZVEZDA SEVERA YARONA FIORDELIZ) etc.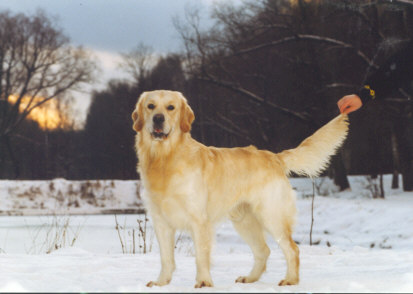 Goldstep Acoustic Sound

In 1998 from BALTGARDEN'S LYNDON B JOHNSON and EUGENIA GOLD we received very successful puppies, from this litter I'd like to mark out bitchrs ADEL (owner Vozjova E.) and ABIGALE (owner Kalugina I.), later on they received a lot of titles and have given excellent children. ABIGALE was the first bitch in kennel "GALAXY STARS" (Ekaterinburg), which now breeds retrievers in Ural.
Also on summer 1998 the litter from LYNDON and ONORE MISHEL (owner Alonova E.) was registered, in this litter four champions were born: ONORE D'ALON GERDA, ONORE D'ALON GOTIE, ONORE D'ALON GALYA (owner Martirosyan N.) and ONORE D'ALON GERA (owner Scorondaeva E.). Two bitches ONORE D'ALON GERDA and ONORE D'ALON GOTIE were purchased by T.Hramchenkova to St. Petersburg and became the base of "AMBERGOLD" kennel. Now this kennel is one of the most successful in St. Petersburg. At spring 2003 T.Hramchenkova imported to Russia bitch XANTHOS ORINOCO from famous English kennel XANTHOS.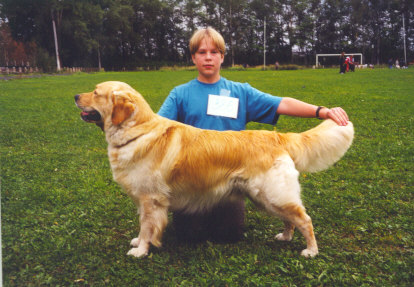 Merry Christmass de L'Enclos du Chateau
At autumn 1998 on International Show "RUSSIA 1998" (judge S.Blum - Brazil) BOB became young very nice dog MERRY CHRISTMASS DE L'ENCLOS DU CHATEAU - CHRIS (owners Vishnevskie V. and M.), he had exellent pedigree with ancestors from UK (Gillbryan kennel) and France (Glen Sheallag kennel). CHRIS was one of the most influenced stud males in Russia, he had given healthy goldens of exellent quality. Among his best children are: Rus.Ch. ISTER LOVELY GIFT (owner Tselishev Y., mother PATRICIA GOLDEN LADY), Int.Ch., Rus., Bel. Geo, Rum., Est, Bolg. Ch. ZVEZDA SEVERA FRANCHESKA CHRISTINA (owner Barausova L., mother ERONA GOLD), Int.Ch., Rus., Geo., Lit., Est. Ch., RRC winner GUSTAV LINE HEART (owner Smolovskaya S., mother YANTARNOE CHUDO SHARLOTTA), Rus.Ch., RRC winner GRAND PRI OT KSUSHI (owner Lipilin V., mother COMPLEMENT ALFA) and many others.
Also in the second part of 90-s on Russian show rings was very successful the Irish golden male BRUKKAROS BART OF MOSCOW (owner Kosireva I.). BART became International Champion, twice he became winner of specialized shows of Russian Retriever Club, also he has given some nice children, for example, CENT IN IRISH BANK (owner Dubrovina I., mother LOVELY FOREIGNER UOTA GIRL) - Int.Ch., Rus., Bolg, Rum. Ch.; his sister CINDERELLA GOLVAY (owner Vetoshkina T.) - Rus.Ch., TSUVASA CRAIGIEHILL UOLTERBY (owner Circen O., mother TSUVASA VERONICA) - Rus., Lit., Bel. Ch.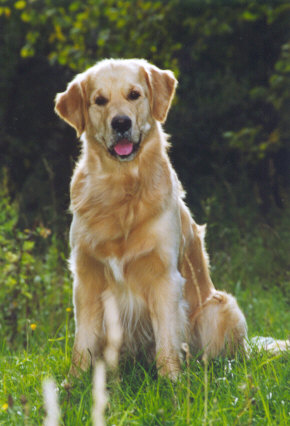 Brukkaros Bart of Moscow

Golden retrievers became more and more popular in Russia. In 1997 to Russia was imported male from Poland - MR.MORRIS STASZEL (owner Osokina T.). Now he is one of the most titled Russian goldens, also he had a lot of puppies of exellent quality: winners of RRC specialized shows - VILPAM ELEN CLEOPATRA LYANA (owner Bahurin S., mother ADEL), YASMIN MAGIC FLOWER (owner Sharkina A., mother CHEMERITSA), YAMAMOTA LIGHT VOTA (owner Shipkov O., mother CHEMERITSA), JASMIN PRINCESS (owner Parnugina E., mother COMPLEMENT QUINTANA), Int.Ch. JERAR IS PEROVSKOGO DOMA (owner Volodina A., mother LUNNAYA RADUGA DOLCE VITA), Int.Ch. JERMINALA MISTIE MORNING (owner Malova N., mother FAITHFUL DYNASTY IRIS) etc.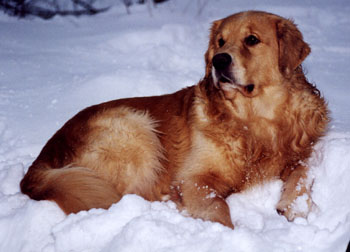 Mr.Morris Staszel

In 2000 in breeding of Russian Retriever Club was used marvelous English golden male RAPPORTDEOR SHISHKA (owner A. Urusova - Jordan), unfortunately we had only three litters from him. At one of these litters from strong bitch BETSY TABOADA (Peru, owner Morosova E.) three Russian Champions were born: SMOLIB BRIGITTE DELIGHT (owner Martova Y.), SMOLIB BEATRIS SOLES (owner Morosova E.), SMOLIB BIANCA EMBA (owner Jukovski P.).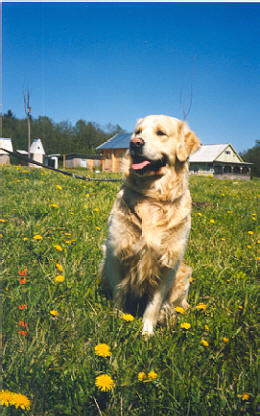 Rapportdeor Shishka

By the way, the owner of SMOLIB BIANCA EMBA - Peter Jukovski at 2004 imported to Russia the first bitch of new for our country breed - Chesapeake Bay retriever CAROWAY'S CHESS QUEEN OF RUSSIA (USA). We wish this wonderful breed successful start in Russia!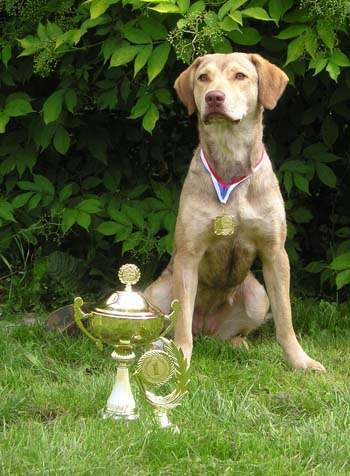 CAROWAY'S CHESS QUEEN OF RUSSIA

But let's continue our story about golden retrievers.
Now one of the most famous goldens in Russia is SANSUE SPORTING KNIGHT (owner Netchaeva O.). He was imported from respectable English kennel SANSUE after long negotiations and for all Russian breeders his appearance in our country is a great luck! This nice boy continues the line of legendary stud dog Ch. SANSUE GOLDEN RULER. Only during his first year of show career SANSUE SPORTING KNIGHT 4 times received CACIB. Now he is one of the most popular stud males in our country.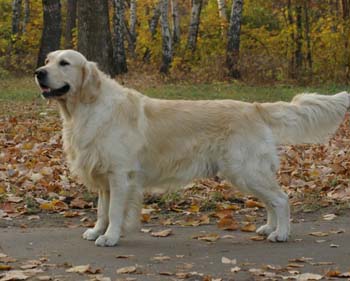 Sansue Sporting Knight

In general the year 2000 was very important for golden retriever development in Russia. During this year to our country were imported three outstanding dogs: SANSUE SPORTING KNIGHT (UK), STANROPH SUPER SHOTTO (UK) and FLOPRYM I AM SWEDISH (Sweden).
STANROPH SUPER SHOTTO (home name is Boss, owner Chijova I.) was imported from famous English kennel STANROPH. At the age of 15 months BOSS became BOB at "RETRIEVER - AUTUMN 2001" (judge - M.Holm-Hansen), in 6 months again BOB at "RETRIEVER - 20002" (judge H.Fryckstrand).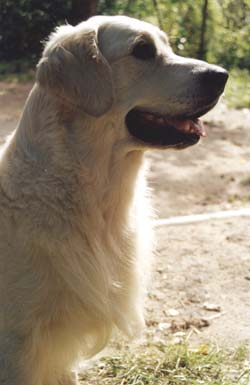 Stanroph Super Shotto

Also at 2000 to Russia was imported excellent male from Sweden I'AM SWEDISH. His owner Katerina Kubatkina is one of the first golden breeders in Russia, she has taken her first bitch from Sweden in 1995. In Russia she had bright show career, became International Champion, Russian and RKF Champion.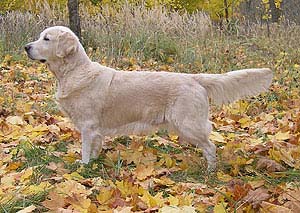 Floprym Bon Appetit
In 1997 BON APPETIT was mated in Hungary to English male JACKRALEE ONYX OF GALANS. The result of this mating was beautiful, in this litter several Champions were born: Ch. SKANDY SUNRISE ARCTUR (owner Germanova L.), Ch. SKANDY SUNRISE ANDANTE (owner Perepelkina O.), Ch. SKANDY SUNRISE ALTSIONA (owner Smorodina V.) and Ch. SKANDY SUNRISE ALBORADA. Now offsprings of this nice bitch have excellent show results.
For example, ARCTUR'S children ZVEZDA SEVERA INGLATERRA SCOTLAND YARD (owners Teslenko O. and N.), ZVEZDA SEVERA ILLORY SPANISH EYES (owner Kusnetsova T., mother ERONA GOLD), OLLI BABY (owner Lubimova T., mother GOLDEN RAINBOW OF WINDSOR BRENDA), SMOLIB HARRIET DREAM (owner Dmitrieva E., mother AFFI JULI) are Russian Champions.
Russian breeders estimate very high the significance of FLOPRYM BON APPETIT in breed development. At autumn 2003 we could see this nice bitch at "RETRIEVER - AUTUMN 2003" (judge Tuus Van Adrichem Boogaert-Kwint), in spite of her 8.5 age she was in excellent form and became Res.Best Bitch. Next time she showed at "RETRIEVER - 2005" (judge Liam Moran, Ireland) and became Best Veteran Bitch.
So at 2000 E.Kubatkina imported to our country her second golden from the same kennel - FLOPRYM I AM SWEDISH, his home name is BIORN. BIORN is a grandson of GB.Ch. GB.Ch. Paudel Easter Plantagenet at Kerrien. At summer 2002 in Russian Retriever Club first puppies from BIORN and Multi Ch. ZVEZDA SEVERA FRANCHESKA CHRISTINA were born.
Besides FLOPRYM BON APPETIT to Russia were imported from Sweden two bitches: DREAM MAX EASTER MELODY and DREAM MAX SPRING MOON, from these bitches golden retriever breeding in kennels "SANSIBILITY" (owner Horunjaya Y.) and "STRONG STYLE" (owners Revenko T. and V) started.
"STENVEYZ" kennel has taken to Russia bitch GLENGILDE BRANDYSNAP from UK, unfortunately she had only one litter, but in this litter 4 champions of different countries were born.
In the end of 90 from Portugal were imported 2 males (CAMILO GOLDEN OF FRANCO'S VALLEY and SAND PIPPER OF FRANCO'S VALLEY, owner Chernobaeva L.). Among CAMILO's children there are some successful dogs of high quality: LUNNAYA RADUGA BELMONDO (owner Aleshina K.), TIMANTTI SOLID ALEX MALISH (owner Mironov V.), EXOTIC LAND ZOLLIE (owner Nefedova I.).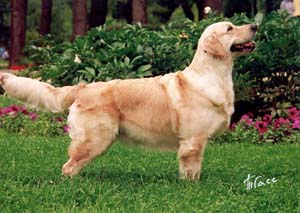 Exotic Land Zollie
From time to time in Russia appear Polish golden retrievers from different kennels. For example in 2002 to Moscow were taken WEST FANTASY STASZEL (owner Osokina T.) and his sister WEST DAIZY STASZEL (owner Vozjova E.), these dogs are inbreeded 3:3, 5:4 to great Standfast Angus. At the age of 2 years WEST FANTASY STASZEL became Best Male at "RETRIEVER - AUTUMN 2003" (judge Tuus Van Adrichem Boogaert Kwint - Netherlands).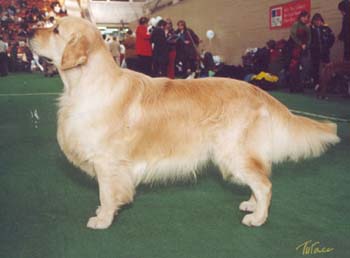 Robin Hood of Glen Sheallag
During the last years in countries of ex-USSR also appeared some golden retrievers with very interesting pedigrees. For example in Odessa live two goldens from legendary kennel GLEN SHEALLAG: male ROBIN HOOD OF GLEN SHEALLAG and bitch REAL WORLD OF GLEN SHEALLAG, owner E.Ushan. ROBIN is a son of World Champion PAUDELL PURE PASSION. Now he is one of the most perspective stud male here. His children have wonderful show results: his daughter TRAMIN APRICOT FIRE (owners Kubatkina E., Valuyskaya U., mother REAL WORLD OF GLEN SHEALLAG) became BOB at the "RETRIEVER - 2005" (judge Liam Moran, Ireland), LAD UNITY AUGUSTA (owner Cheburahina L., mother SKANDY SUNRISE VISARDY) became Res.Best Bitch at the same show.
At European Championship - 2002 Russian golden SANSIBILITY SPECIAL ATTRACTION (Tottelina Oaktown + Dream Max Easter Melody,owner Matveeva E.) became Young European Champion. At World Championship in 2003 Res.CACIB has taken also Russian golden GUSTAV LINE HEART (Merry Christmass de L'Enclos du Shateau + Yantarnoe Chudo Sharlotta, owner Smolovskaya S.), at this show have taken part 382 golden retrievers!
On spring 2003 at the age of 7 years to Moscow was imported SAHIB NORSKEN - the only son in Russia of Ch. Standfast Angus.
Russian Retriever Club usually contacts with foreign breeders, for us it's very important to receive recommendations of experienced golden retriever people.
Thanks to Marianne Holm-Hansen (Tallygold kennel) in 2002 Rus.Ch. EFRI DIOSA (Goldstep Acoustic Sound + Tsubura Mimosa) was mated with Danish Ch. TALLYGOLD KNIGHT AND DAY. The puppies from this litter were inbreeded to Int.Ch. Mjaerumhogda's Classic Sound. The litter was very successful, three dogs from it now received Champion title: TSESAR GUY YULIY (owner Orehovskaya S.), CICERON MARC TULLIY (owner Sotskova A.) and TSUKUBA SATORI (owner Fedoseeva E.).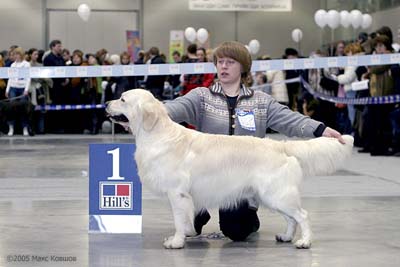 Tsesar Guy Yuliy
After long negotiations with mr. H.Fryckstrand on summer 2003 to Moscow was imported DEWMIST SILVER DUST (owner Nechaeva O.). It's real luck for Russian breeders! On spring show of Russian Retriever Club he became Best Junior, and during winter 2004-05 first litters from this male were born.

Some Russian breeders are really very serious and qualified. In 2002 was registered kennel "RADOST IS ISTRY", owner Barausova L. This kennel is notable for it's professionalism. It's first bitch was Ch. ZVESDA SEVERA FRANCHESKA CHRISTINA, but now this kennel imported several dogs of very high quality: French bitch TANGO OF GLEN SHEALLAG, Swedish bitch ROSSMIX PRIVATE EMOTION and young males from Sweden и DASTY PADDY'S GONE TO RUSSIA and GOLDENONE SAFE RETURN. Besides Lidia Barausova has taken to Moscow first flatcoated retriever bitch GILLIAM'S GOLD BLACK RUSSIAN, and I'm sure that this wonderful breed in future will be popular in Russia. First litter of flatcoated retrievers were born in Moscow at 2004 (Sniffens Metsavirna - Gilliam's Gold Black Russian).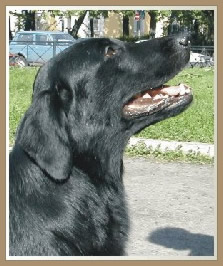 Lusi Cerasus
In St. Petersburg kennel "STARS MARYLAND" (owner Lunnikova M.) specializes on flat coated retrievers, in this kennel were born two litters from LUSI CERASUS (Poland).
Kennel "SKANDY SUNRISE" continues its work, at 2004 its owner Ekaterina Kubatkina imported from Sweden nice young male ROSSMIX NO SECRETS, he started here successful show career, became Best Junior Male at "RETRIEVER - AUTUMN 2005" (judge Barbara Krumpak), Best Junior of Breed at "RETRIEVER 2005" (judge Liam Moran) and at age of 16 months became Russian Champion
Now golden retrievers become popular not only in Moscow, but also in St. Petersburg, Samara, Voronezh, Belgorod, Rostov-na-Donu, Irkutsk, Ekaterinburg, Nizhni Novgorod, Omsk, Magadan and many other Russian cities.
For example in Kazan lives male DABAS ORE LOGO (Hungary), he is Russian Champion and very popular in his region. In 2004 he also had two litters in Moscow. By the way, his owner Anna Ivanova is full of breed, and in 2004 she has imported to Russia the first puppy of nova scotia duck tolling from Canada.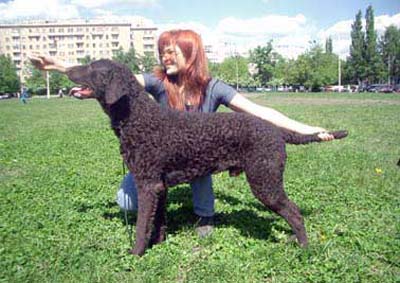 Caballus Ursus
First bitches of curly coated retrievers appeared in Moscow in 2001, CABALLUS QUE SI QUE NO and CABALLUS SAILORS DREAM were imported from Finland to kennel "BESELFOLK" (owners Shlafshtein G. and E), and KULTEEN HOKITIKA was imported to kennel "DUCK'S HUNTER" (owner Stepchenkov U.). All these bitches became Russian Champions, and now in our country is growing second generation of curly coated retrievers.
Thanks to considered selective work now the quality of some Russian retrievers is rather high. For example in may 2005 at all-breed show in Oulu, Finland Russian labrador STENVEYZ HUCKLEBERRY (Stenveyz Polar Storm + Stenveyz Angel's Melody, owner Potovina T.) became BOB in comparison with many best Finnish labradors. For Russia it's a great result!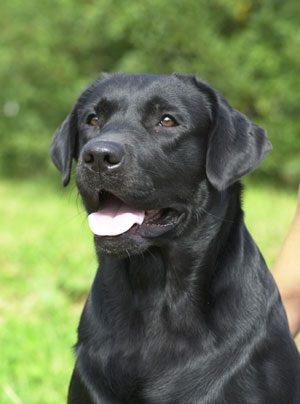 Stenveyz Huckleberry

Many foreign judges after work at our shows with surprise say that they were not ready to see in our country retrievers of such desired type. I think it's a big merit of Russian breeders who devote to their favorite retrievers great part of their life.
OLGA TESLENKO